Bowen Hills station - temporary walkway closure
Last reviewed: Wednesday 11 Jul 2018 at 11.03am ()
From Tuesday 8 May until late July, access to Bowen Hills station via Abbotsford Road (southern footbridge) will be temporarily unavailable due to construction works.
If you normally catch train services at Bowen Hills station, please use these alternative entrances:

Pedestrian access via Edgar Street and Hudd Street (lift access)
Pedestrian/stair access via path off Abbotsford Road (stair only)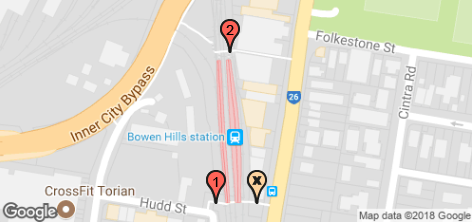 Map of entrances to Bowen Hills station
If you need help with accessing the station, please speak with station staff or contact Queensland Rail by phone on 13 16 17 or SMS 0428 774 636 to discuss an access plan.
Thank you for your ongoing patience and understanding.
Affected services